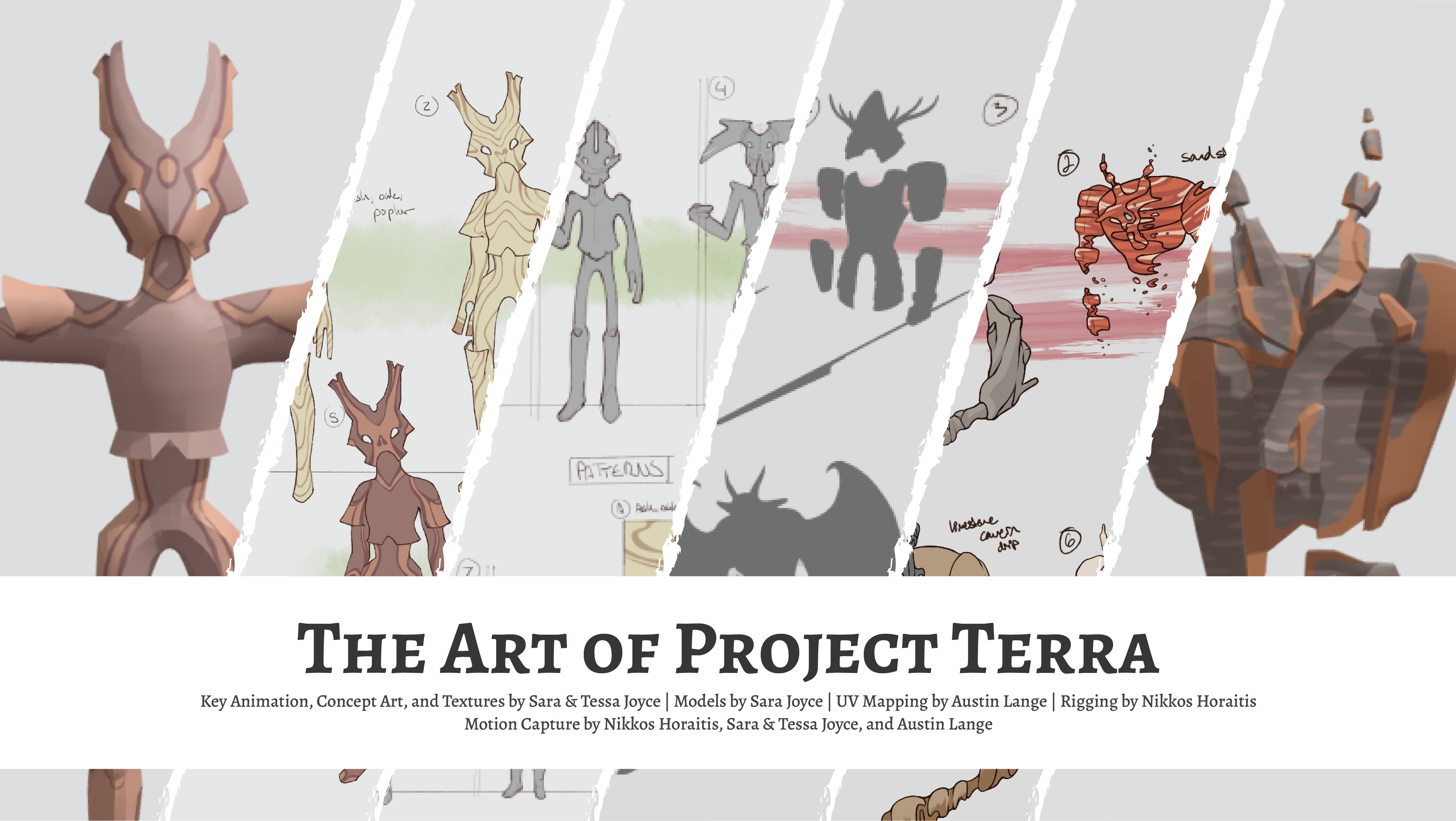 Hello, we are the artists of Project Terra, a video game created for our MAGD 488 Capstone project. Project Terra is a short game that demonstrates a PvE boss fight. The art shown here displays early character concept art, in-game animations and 3D models, and the unused boss character that was cut from the game due to time constraints.
Sara and Tessa were able to fulfill the roles they wish to have in the games industry as  concept artists, and Nikkos, a hopeful animator, worked with rigging and motion capture. Austin was able to practice technical and 3D environmental art during this project
Softwares Used: Procreate, Maya, Substance Painter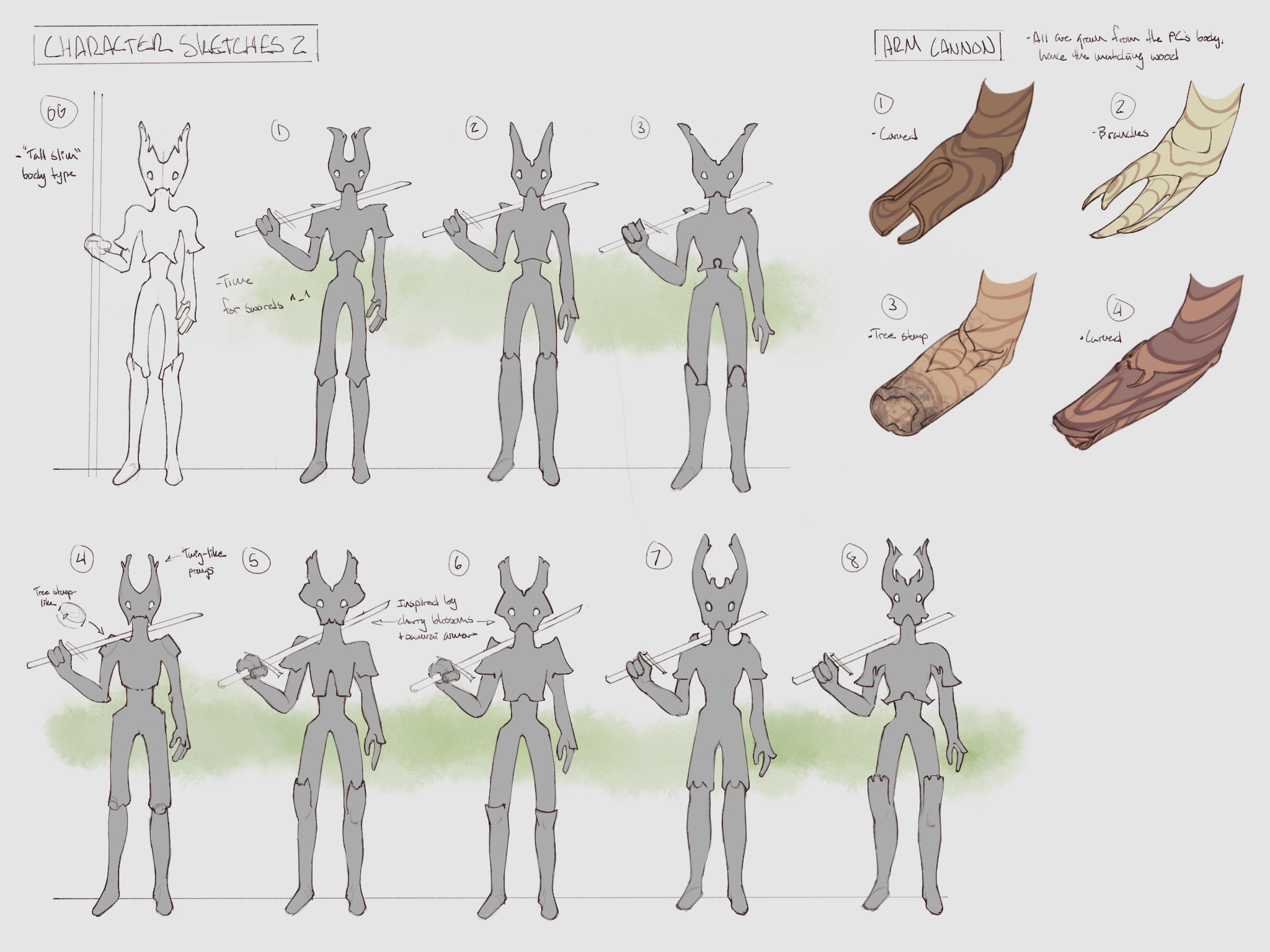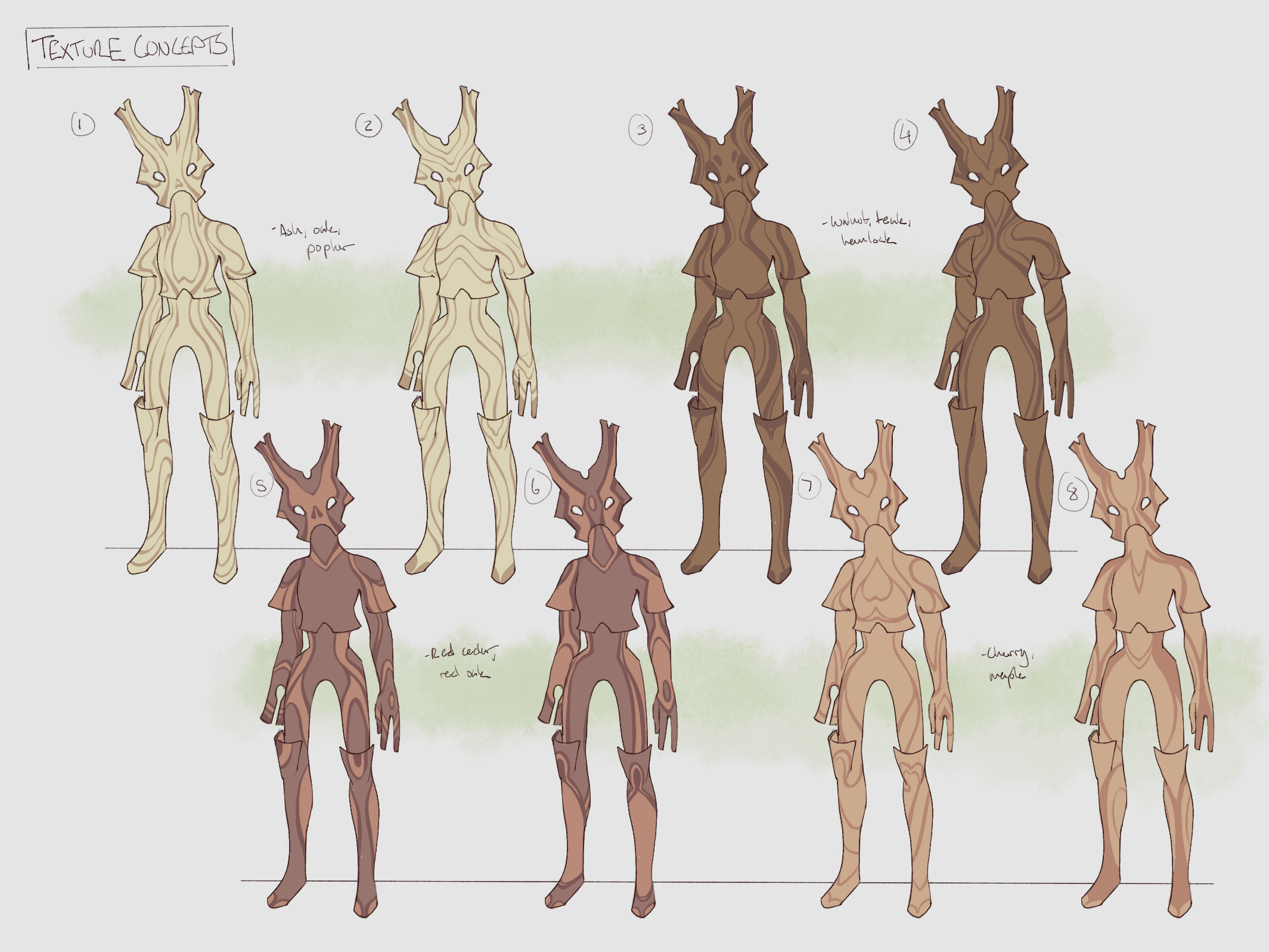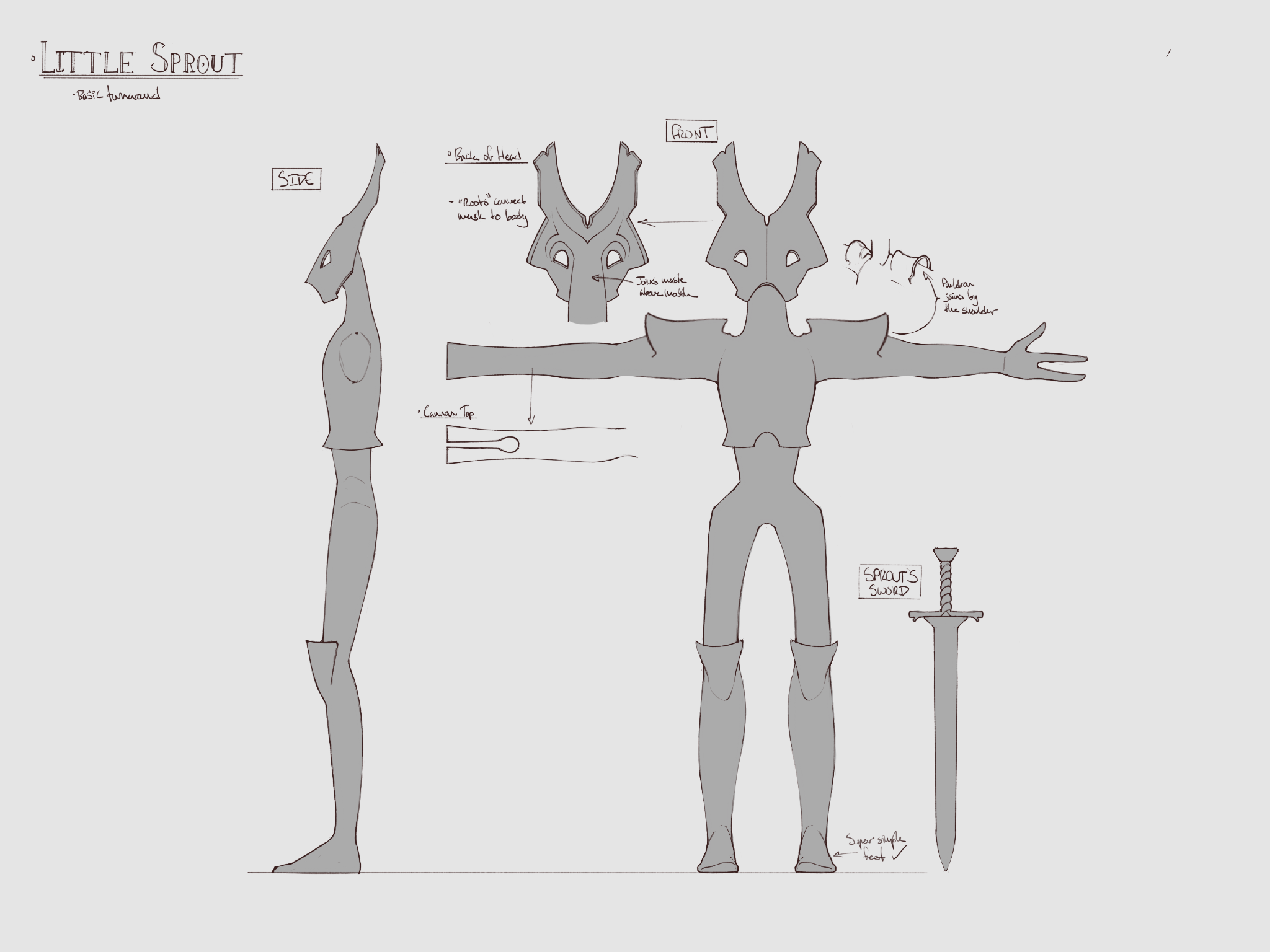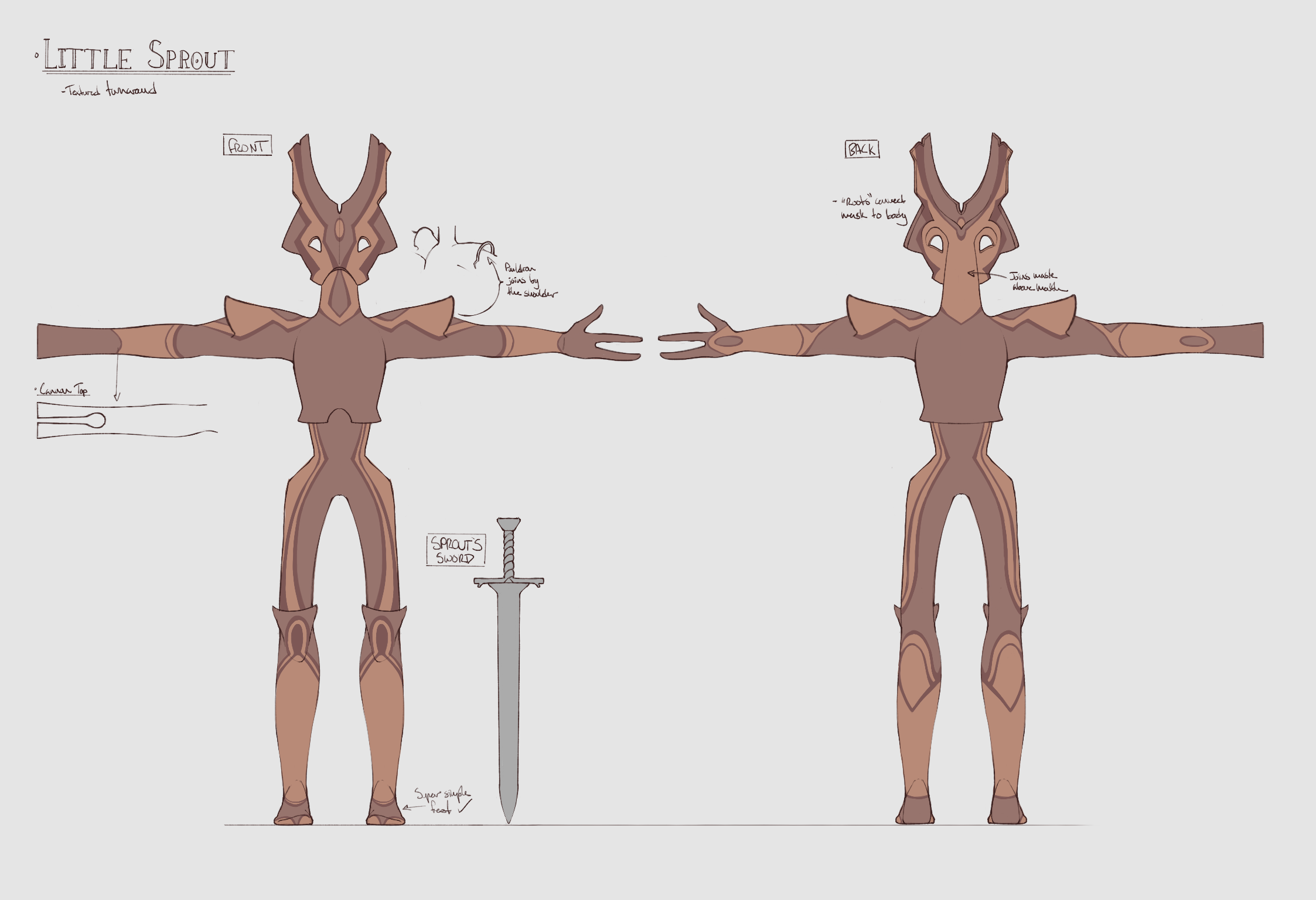 SPROUT
Concept Art & Turnarounds
By Sara Joyce
Sprout was inspired by a woodland spirit, such as a wood woad or dryad. To make it easier on the animators, we chose for him to be a tall humanoid, as our actor himself is a rather tall individual. He has a smooth body, and we left him without separate clothes, save for the suggestion of flaring armor to make modeling faster. To keep things simple for our riggers, we decided he would deform as though he had flesh, and gave him a static, mask-like face. We also decided to give him only three fingers, and to make the ranged attack we all wanted him to have simple to execute, gave him a cannon arm.
Despite these strange qualities, we wanted Sprout to remain unalarming and likable, hence the softer, neutral colors, round shapes, and a happy default expression.
Hover over the images to read a more in-depth breakdown of each one!
Animations: Sara & Tessa Joyce, Austin Lange | Sprout's MoCap Actor: Austin Lange | MocCap Recording: Nikkos Horaitis & Prof. A. Bill Miller
All of Sprout's finished animations plus the NPC's idle animation, which was done before the NPC was cut from the game. Nikkos and our professor, A. Bill Miller, handled the motion capture data that our actor, Austin, performed. Nikkos, Tessa, Austin, and Sara collaboratively directed the performances, drawing on our various experiences with martial arts (Aikido, Tai Kawn Doh, and Muay Tai). His animations were cleaned and edited in Maya.
The NPC
Concept Art, Turnarounds, & 3D Model
Concept Art & Turnarounds: Tessa Joyce
The NPC for our game, which was sadly cut due to lack of time and implementation problems into Unity. It is an elemental inhabited by a demon, whose presence has twisted and animated the natural rocks by its prison to serve as a mobile, powerful vessel. The NPC was inspired by golems and elementals, popular enemies in fantasy RPGs. The NPC's designer, Tessa Joyce, threw in a few bull-like elements to play into its sturdy, brutish nature. Similar to Sprout, we kept things simple to save on time, relying on his patterning to convey his rocky body, and eliminated his legs and simplified his arms into two-jointed bludgeoning weapons.
Hover over each image to read a more in-depth breakdown of each one!